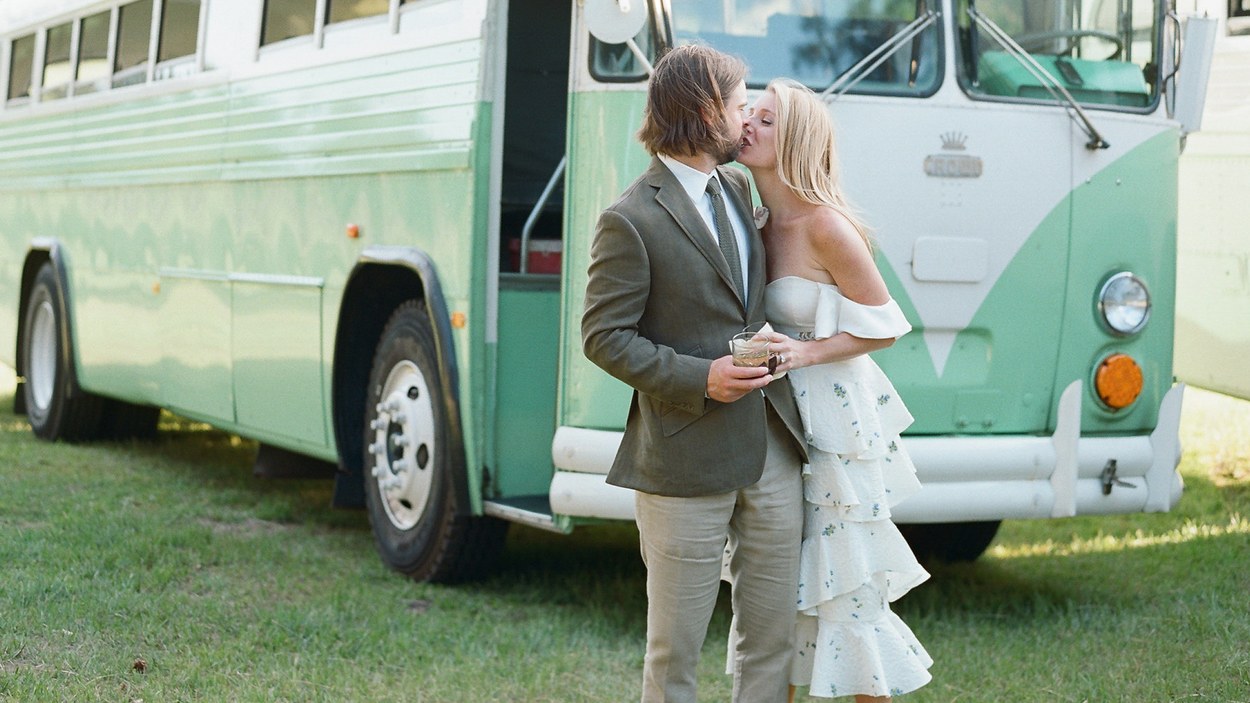 So the night before the wedding is a big deal but we have an idea: Skip the typical formal rehearsal dinner and do something a little more fun and lighthearted instead. We love this idea because it means your wedding weekend begins with casual start, making it easier for your friends and family (many of whom are strangers before this day!) to mix and mingle. And just because we say « casual » doesn't mean this event needs to be your everyday backyard BBQ. No, you should definitely still have an open bar (wine and beer are OK), tables, and some kind of entertainment. (This is a party, after all!)
That being said, we say you should make this night about the two of you and not go overboard with the flowers, food, and entertainment. Make like the couple above and celebrate with a casual, fun, and friendly party—and your guests will thank you later. To do so, simply incorporate one (or all!) of the creative ideas below and, who knows, your rehearsal dinner might be just as memorable as the wedding itself.
1. Hire a local band.
Set the mood for the night with a local band—whether it be a mariachi group or blue glass gang. Your guests will appreciate the entertainment as they mix and mingle with strangers (and new friends!).
2. Have a picnic-style set up.
Okay, this idea is not for all but we think you should at least consider it. The next night is going to be fancy so make the rehearsal dinner casual and fun. Picnic-style tables and checkered linens do the trick! (But, of course, elevate this look with next-level flowers because c'mon.)
3. Serve drink-friendly escort cards.
If you're going to give your guests assigned seating (you don't have to!), you might as well make it fun. We're obsessed with these copper mugs—perfect for a pre-meal shot or mini Moscow mule.
4. Embrace a cool bar.
Embrace the newest trend in cocktails and serve them from a vintage airstream. Your guests will love the drinks almost as much as they heart the photo op!
5. Set up a fire pit.
Give your guests something to talk about (and around!) with a fire pit. You can even provide s'mores at the end of the night for some good, lighthearted fun (and to channel your inner kid before the big formal event!).
6. Do a photo montage.
Many couples do some kind of slideshow at the rehearsal dinner that starts with their baby photos and celebrates their relationship to date. Take this idea (it's a fun one) and make it a pretty design focal point. Everyone will love browsing the photos—and lounging in a chic area below!